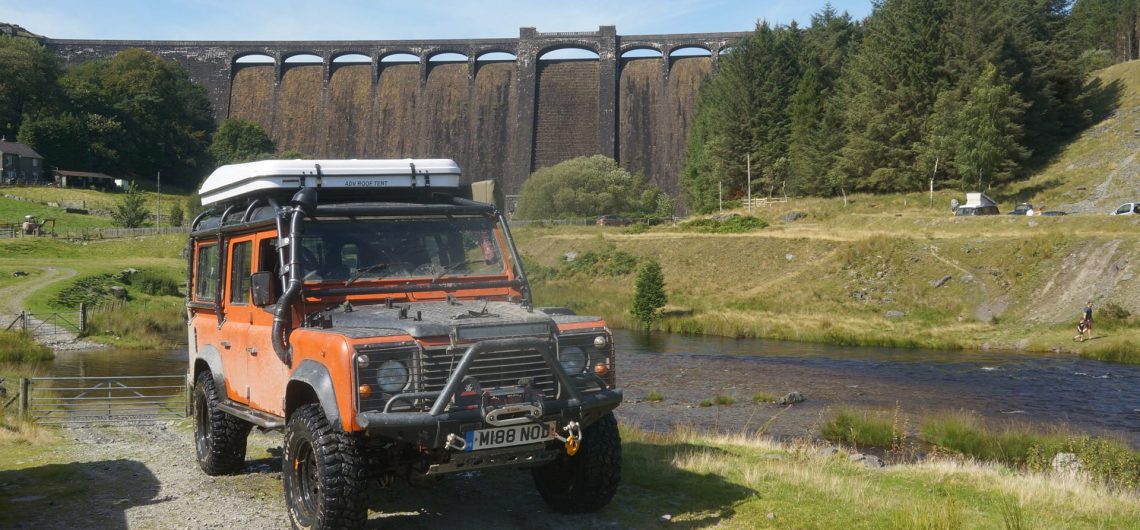 Now you've got your ADV Roof Tent where are you going to go for summer staycation?
Here are some fantastic destinations and festivals to enjoy. You'll always have a room with a view with one of our ADV Roof Tents, but just make sure you book ahead to guarantee a camping pitch or find out about wild and nearly-wild camping options here.
Explore the UK's glorious parks in National Parks Week, 17-25 April 2021
National Parks Week invites us all to celebrate the beauty and diversity of our national parks, and to discover the many opportunities to get outside year-round – from walking, cycling and water sports to horse riding, camping, and climbing. There are 15 National Parks across England, Wales and Scotland, each one ripe for a motorhome holiday – so pack your hiking boots, mountain bike and waterproof jacket and get on the road! Try the South Downs (Britain's newest National Park, dating from 2011) for fantastic coastal hiking from Eastbourne to Winchester; the Lake District for mighty fells and glassy lakes; Exmoor for quaint, charming villages and deep valleys that inspired writers such as Samuel Taylor Coleridge and R D Blackmore; the Pembrokeshire Coast for rugged coastal landscapes and wildlife-rich woodlands; and the North York Moors, with its newly-awarded Dark Skies status and sweeping moorlands.
Go to a summer camp for grown-ups 
Camp Widlfire, 27-30 August and 3-6 September, Kent
A summer camp for adults, this four-day festival, held over two weekends near Sevenoaks, Kent, promises a wild weekend in a gorgeous forest retreat. Enjoy adventurous sports such as paddle boarding, kayaking and horse riding; hone your wood whittling, leather tanning and beekeeping skills; listen to live poetry and comedy; relax with spa treatments and wood-fired hot tubs tucked away in the forest; sample delicious street food and crafty cocktails; and enjoy music from 50 live bands and DJs, including Noman Jay, DJ Yoda, Craig Charles and DJ Luck & MC Neat.
Visit newly-relaunched Nottingham Castle and learn all about Robin Hood
Following a multi-million-pound investment, 2021 will see the exciting relaunch of Nottingham Castle and its sprawling caves, with their immersive displays, outstanding art and archaeology collections, plus the excellent Terrace Café. Visitors will experience stories of power and rebellion in the castle and its Ducal Palace, and their links with Robin Hood, Richard the Lionheart and the English Civil War. Nearby, Sherwood Forest is a beautiful, ancient woodland filled with hundreds of species of flora and fauna, including the 1,000 year-old Major Oak; the forest is, of course, linked closely to the enduring legend of Robin Hood. Discover the woodland via its themed walking trails, cycling routes, guided walks, children's activity packs, magical illuminations and more.
Go wild in the Scottish Highlands 
Get your fill of fresh air, wide open spaces and dramatic views on an epic campervan road trip through the Scottish Highlands. Following the Highland Tourist Route through the heart of the Highlands, pass through the wildlife-rich Cairngorms National Park, rugged forests with mountain biking and hiking trails, charming Highland towns and historic castles.
Take your ADV Roof Tent on a vineyard tour in South East England 
Blessed with the sunniest climate in the UK, and chalk soil from the same vein as that in France's Champagne region, the South East is fast becoming a wine mecca. Located in some of the most scenic areas of the region, amidst green, rolling valleys and picturesque countryside, taking a road trip via some of the very best vineyards is an ideal way to discover the region – making sure, of course, that you are based at a campsite nearby for an easy stroll back after an afternoon of wine tasting! Denbies Wine Estate in Dorking, Surrey, boasts 265 acres of vines surrounded by beautiful walking trails, with tours, tastings, restaurants, an art gallery, brewery and farm shop. Hambledon Vineyard in the gorgeous South Downs, in Hampshire, is one of the country's top sparkling wine producers. Ashling Park Estate vineyard, in West Sussex, is a heavenly retreat boasting trophy-winning sparkling English wines, gin distilled from Pinot Noir grapes grown on the estate, an infinity tasting terrace overlooking sublime views of the vines, and pop-up eatery 'The View'. Bolney Estate produces award-winning Pinot Noir and English sparkling wines and sells superb local produce such as cheese, chocolate and charcuterie from its beautiful setting in the heart of the West Sussex countryside.
ADV Roof Tents advise everyone to adhere to the national lockdown and plan their travels for post-lockdown, when it is safe to do so. Details can be found on the Gov UK website: https://www.gov.uk/guidance/national-lockdown-stay-at-home.